Suhre's Gas Co's office is located at:
100 Hamel Ave, Hamel, IL, just one block off Routes 140 and 157.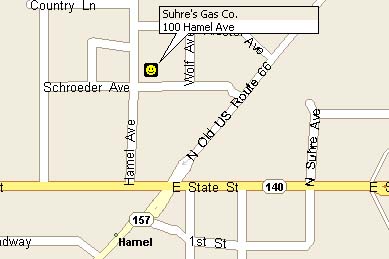 Our office hours are Monday – Friday 8:00 am – 4:30 pm.
Mailing address is PO Box 127, Hamel, IL 62046-0127
Non Emergency Phone: 618-633-2231


You can send us an email for NON EMERGENCY information by filling out the form below.Please remember this form is setup to contact someone during normal business hours only. PLEASE do not use this form to report an EMERGENCY.